Stop Press !!!!!
Election June 2017 AND FUTURE ELECTIONS
we can
TAKE BACK CONTROL
BY CLAIMING OUR ACTIVE POLITICAL RIGHTS
click->

<-click

Approach parliamentary candidates and ask them to support the introduction of citizen launched referendum. For this, Parliament must pass a new Democracy and Political Rights Act.
Spread the word and kick off debates about the need for more and better participation in politics: We need the People's Law Proposal (Citizens' Initiative) and the Electors' Veto referendum to block unwanted government law or policy.
GENERAL ELECTION TACTICS FOR ACTIVE CITIZENS
HELP PERSUADE THE NEW PARLIAMENT TO INTRODUCE (DIRECT) DEMOCRACY
A GUIDE FOR VOTERS, NON-VOTERS AND THE UNDECIDED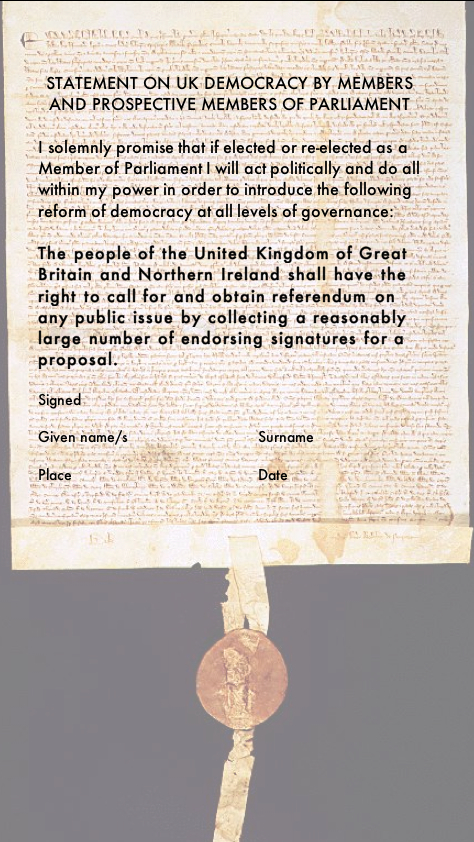 ELECTION CAMPAIGN FOR DEMOCRACY PAGES
OPEN ELECTION-CAMPAIGN STRATEGY
FRAME ONE
Setting the scene
OPEN ELECTION-CAMPAIGN STRATEGY
FRAME TWO
The election-campaign
plan-of-action
MPs and CANDIDATES HOW TO CONTACT
YOUR QUESTIONS OR COMMENTS
PRINT THE CANDIDATE/MP STATEMENT
VIEW
CANDIDATE/MP
DOCUMENT
BACKGROUND
ELECTION BLOG
Simply giving away your vote at a general election once every few years, then having no say during the years between, cannot be regarded as effective democracy.
In contrast partial
direct democracy
enables every citizen to take part in developing policy and deciding important public issues while keeping tabs on MPs and government. The "tools" for this have been tried and tested – they include the law-proposal, the veto-referendum, the constitutional referendum and the recall of elected officials.
Politicians are in the main opposed to this type of democracy. Parties and government act to hinder reform so to achieve progress will need lobbying and campaigning.
Surveys confirm that a large majority of people in Britain approve the essential principle of direct democracy: An agreed number of voters should be able to put forward a proposal and demand a referendum about it. This reform would give us "partial direct democracy" – parliament and government would continue to function much as before, doing most of the work of running the country. From time to time though, on some public issues which we select, the electorate would take over responsibility to decide a matter of law or constitution directly.
During elections campaigns please help to promote the idea of better democracy. #####
Below we will show that, however you judge our politicians and governments, you can help to promote the introduction of new democratic tools such as citizens' law proposal, the veto referendum plus the MP-recall.
Let's say that your intention is:
1)
I will not vote in the forthcoming election
According to a survey of over 1000 declared non-voters a large majority felt that if direct democracy for citizens were available then they would make use of it (no sign of apathy here).
Recommendation:
Join our open campaign for genuine democracy reform. Here are some links to help you make a start:
Web site index
Brief
Case
Join
Take a look at our proposed
Constructive Protest Vote
. Contact us if you need to know more and tell us how you get on.
3)
I am undecided about whether to vote or not. I know of no political party which represents my wishes
From our review of manifestos and their public statements we are not convinced that any political party with a chance of gaining power would introduce the genuine citizen-led democracy which we propose. Even though three-quarters of adults (in repeated opinion surveys) approve. When the "powers that be" oppose reform, much can be achieved by campaigning and protest.
Recommendation:
Read our general election
strategy for democracy
and think it over. Maybe you will decide to vote for a candidate or political party as the "least bad" evil (then see 2. above). Or maybe you will take up our appeal to non-voters: convert your ballot into a
CONSTRUCTIVE PROTEST FOR DEMOCRACY
May the best ideas and arguments, not the slickest and richest operators, win the general election!
......................................

... to show your support for democracy. Carry or wear it on POLLING DAY. Take one of the following or send us your suggestion ...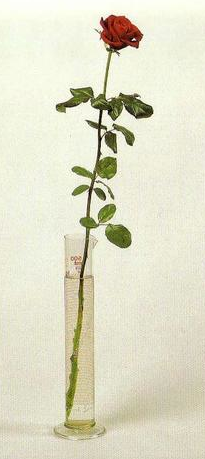 A "measured" rose was chosen by the artist Joseph Beuys for the direct democracy campaign which he founded in the 1970s, "For The People's Referendum". The campaign was successful and is still going strong!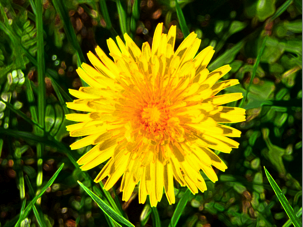 A flower of the people, the dandelion carries DD (direct democracy) in its name. It should flower in May, is widely available and inexpensive!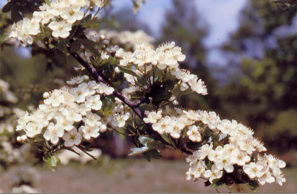 May blossom. Could the hawthorn become a symbol of democratic renewal? Politicians beware of the hidden thorns, should you scorn the people's wishes.
___________________________________________

WE ASKED
Is there a better symbol for CITIZEN-LED DEMOCRACY? Send your suggestion to info AT iniref.org
Paul Nollen replied from
OPSTAND der BURGERS
to suggest this symbol: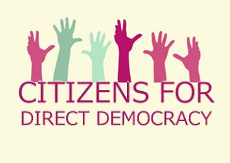 ___________________________________________

ELECTION CAMPAIGN FOR DEMOCRACY PAGES
OPEN ELECTION-CAMPAIGN STRATEGY
FRAME ONE
Setting the scene
OPEN ELECTION-CAMPAIGN STRATEGY
FRAME TWO
The election-campaign
plan-of-action
MPs and CANDIDATES HOW TO CONTACT
YOUR QUESTIONS OR COMMENTS
PRINT THE CANDIDATE/MP STATEMENT
VIEW
CANDIDATE/MP
DOCUMENT
BACKGROUND
ELECTION BLOG
2017
ARGUMENTS AND TIPS FOR VOTERS AND CAMPAIGNERS, LEAFLET TO SPREAD
INTERNET http://www.iniref.org/control+election2017.html
PDF to spread or print http://www.iniref.org/control+election2017.pdf